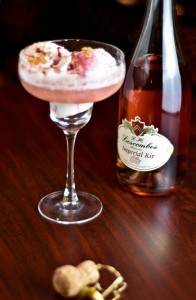 Nothing says Valentine's Day quite like the color pink! So, our rose-colored D.H. Lescombes Imperial Kir is a perfect companion for the holiday. Our Imperial Kir is a crisp, festive, semi-sweet wine with a (literally) bubbly character. Based on the 'Kir Imperiale', a raspberry-flavored drink first made popular in the late 1800s, we decided to put a soda shop twist on this old-world classic.
Inspired by a recipe by The Cookie Rookie, we added a few scoops of raspberry sorbet to create a delicious, sweet treat. Notes of citrus in the wine lend a bit of sophistication to an otherwise playful float. We like to top it with graham crackers and fresh raspberries, but feel free to try any other toppings that might strike your fancy (maybe some yogurt chips?). Perfect to enjoy on your own, or to split with a special someone this Valentine's Day.
[recipe title="Imperial Kir Raspberry Sorbet Float" servings="1″ time="5 min." difficulty="easy" image="https://lescombeswinery.com//wp-content/uploads/2017/01/ImperialKir_sorbetonly.jpg" rel="attachment wp-att-54337″ description="A playful, festive float with sophisticated flavors."]
Ingredients
2-3 scoops of raspberry sorbet
1 cup Imperial Kir
Optional:
Crumbled graham crackers
Fresh raspberries
Directions
Place scoops of sorbet into a large margarita glass.
Pour Imperial Kir over the sorbet.
Garnish with graham crackers and fresh raspberries.
Sip, scoop and enjoy!
[/recipe]