Join us for a Lescombes Family Vineyards & Winery Tour for a behind-the-scenes look and V.I.P. tasting experience!
There is something magical in the air during harvest season at Lescombes Family Vineyards!
Maybe it's the smell of grapes being turned into wine, or the buzz of the vineyard. Every year in August and September winemakers, vineyard workers, and cellar staff at Lescombes Family Vineyards race against nature to pick grapes at the peak of ripeness and get them into the tanks and barrels to start making wine.
Harvest is one of the peak seasons for travel to our family-owned vineyard and winery. Mainly, because there is so much to see, taste, and do.
If you're a local or just passing through Southern New Mexico, don't miss out. Make sure to take the time to smell the scent of fermentation in the air. Locals say there is no other smell like it.
The winery tour will begin at the Las Cruces D.H. Lescombes Winery & Bistro with a Mimosa greeting. If you'd like to depart from Deming, we can arrange for pickup from the Deming Tasting Room.
While visiting our family-owned vineyard, just east of Lordsburg, enjoy the services of personable, well-informed tour guides that will take you on a journey throughout 200 acres of lush wine grape vines. Enjoy a delightful lunch and wine pairing at the Lescombes family's vineyard home. You will have an opportunity to taste vintage wines selected from the personal, underground wine cellar of patriarch Hervé Lescombes. Later at the winery in Deming, you'll tour our operational winery and be treated to a V.I.P. wine tasting, straight out of the barrel.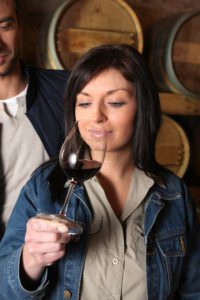 Complimentary transportation is available
$89.95 Per Person during Harvest Season (July & August) Vineyard & Winery Tours
$69.95 All other Vineyard & Winery Tours
Only 10 spaces available per tour date
*Tour guests should wear long sleeve shirts or blouses. No high heels or open-toed shoes. You will be touring a "working plant" in operation, so be careful and behave accordingly for the safety of our tourists and employees.
Or book a Private Group Tour and receive a 10% discount! Review our private tour guidelines here. Call us at 575-546-1179 to book or for more information.
We also offer basic winery tours at our D.H. Lescombes Winery & Tasting Room in Deming. Offered each Sunday between 1:00 – 3:00 pm.