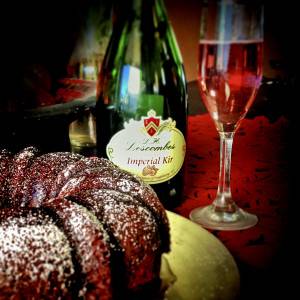 Cake ingredients-
Use any chocolate cake mix and follow the basic directions but replace the required amount of water with D.H. Lesombes Imperial Kir. Pour batter into a well-greased bunt pan and bake at temperature specified on the box. Allow cake to cool completely before removing from the bunt pan. Once you remove the cake and the glaze has cooled, drizzle the glaze over the cake and sprinkle with powdered sugar.
Imperial Kir Raspberry Glaze
2 tablespoons unsalted butter, at room temperature
1/2 cup D.H Lescombes Imperial Kir
1 cup confectioners' sugar, plus more for serving
1/2 teaspoon pure vanilla extract
Glaze Directions
Combine the butter, Imperial Kir, and confectioners' sugar in a medium saucepan. Bring to a boil, stirring occasionally, over medium-high heat. Remove from heat; stir in vanilla. Set aside to cool.