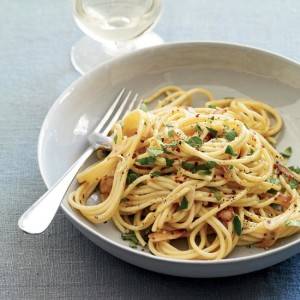 Ingredients
12 ounces spaghetti
1/4 cup extra-virgin olive oil
3 large garlic cloves, thinly sliced
One 2-ounce can flat anchovies, drained and chopped
Pinch of Aleppo pepper or crushed red pepper
1/2 teaspoon finely grated lemon zest
1 tablespoon chopped oregano
1/4 cup chopped flat-leaf parsley
2 large egg yolks
Salt and freshly ground pepper
Directions 
In a large pot of salted boiling water, cook the spaghetti until al dente. Drain the pasta, reserving 1/2 cup of the cooking water.
In a large, deep skillet, heat the oil with the garlic and anchovies and cook over moderately high heat until the anchovies have dissolved, about 2 minutes. Add the red pepper, zest, oregano and parsley, then add the pasta and toss to coat. Remove from the heat.
In a small bowl, whisk the yolks with the reserved cooking water and add to the pasta. Cook over low heat, tossing until the pasta is coated in a creamy sauce, about 1 minute. Season with salt and pepper and serve.