Book a Lescombes Family Vineyards & Winery Tour and enhance your wine knowledge and appreciation of New Mexico wines as you learn about the Lescombes rich family heritage.  It's an experience you will remember for years to come.
Your Lescombes Family Vineyards & Winery Tour will be off to a good start with a Mimosa Meet & Greet at:
D.H. Lescombes Winery & Bistro in Las Cruces at 8:30 a.m. or at D.H. Lescombes Winery Tasting Room in Deming at 10 a.m.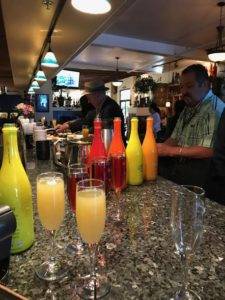 Sip on award-winning
Soleil Mimosas
accompanied by snacks.  
Soleil
is a French word meaning "Sun." Our Soleil Mimosas are a blend of premium wine and fresh-squeezed fruit juice.  A juicy, refreshing wine cocktail that's sure to tickle your taste buds with its subtle hints of white flowers and orange zest.
"I found that each flavor had a good mix of fruit and a crisp white wine flavor." – Ashley Gill
Travel with us to our vineyard, located in the high desert of the Pyramid Valley,  located 47 miles west of Deming,  just outside Lordsburg, New Mexico, where we've found the ideal climate and soil to grow the best quality grapes.
Let us take you on a journey through 200 acres of wine grapevines. Get to know Viticulturist,  Emmanuel Lescombes, as he guides and educates you on grape planting, the life cycle of wine grapes, vineyard maintenance, the process of harvesting, and shares some of the rich Lescombes family history.
You may get to meet Founder and President Hervé Lescombes, who will invite you into his vineyard home to sip vintages selected from his personal underground cellar, connecting memorable wines to a memorable visit.
Feast your eyes on stunning art displays throughout the enchanting home, built by Hervé himself! Then gather around the table to enjoy a deliciously paired lunch, surrounded by your new-found friends in the home's unique atmosphere.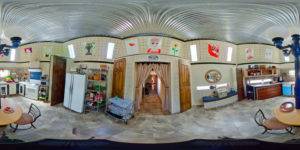 "The best part of the tour was the genuine lunch with the winery owners" – Tour guest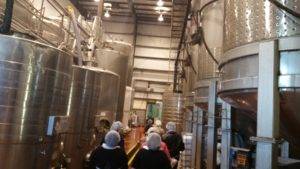 After an exquisite lunch, travel to Deming for a tour of the winery, situated on 15 acres. Our knowledgeable guide will take you behind the scenes to learn more about the art of wine blending, fermentation, aging, and the bottling process.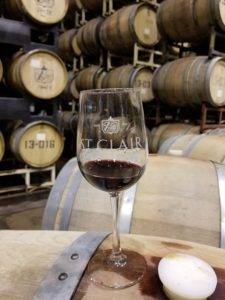 Enjoy private tastings and an exclusive wine barrel tasting experience. Set your eyes upon New Mexico's largest fermenting tanks. Our winery is composed of over 50 tanks, each up to 16,200 gallons in capacity.
Before ending your tou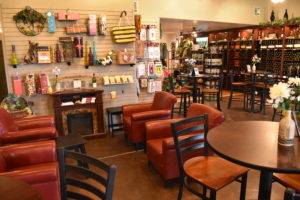 r, rest and relax in the tasting room. Enjoy a tasting at our wine bar or purchase a bottle to take home. Our Tasting Room Specialists are available to answer any questions you may have about any of the over 40 different wines we produce. Stroll through our gift shop complete with gourmet snacks & unique gifts and indulge in a cheese nosh.
 No matter the season, there's always something magical happening at the vineyard!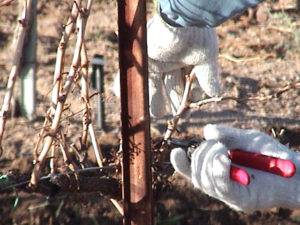 Winter– Beat the winter woes with good times! This time of year makes the vines look sturdy and tranquil. Even though the grapevines are dormant this time of year, there is still a lot of work that is getting done. While the vegetation is dormant, it's time to cut away what is not useful from last year and establish the possibilities for this year. From a mass of branches per vine, the pruner's choices have a crucial influence on quality, health, and yield.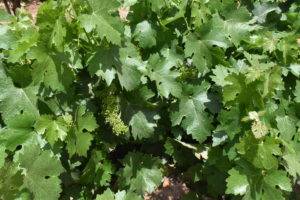 Spring– The vineyard awakens to the sun and warmth of the season. You will appreciate the enchanting beauty of the budding process. Indulge your spring senses and discover delicious New Mexico wines while getting an up-close and personal view of the vines coming to life.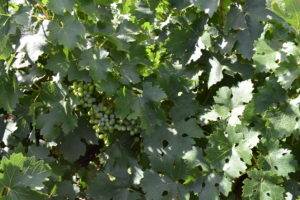 Summer– The vines are in full bloom. The buds are bursting, marking the beginning of seasonal growth. There's a lot of vineyard maintenance happening, aimed at limiting yields and promoting good-quality fruit.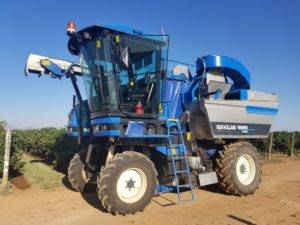 Fall – Experience firsthand the excitement of harvest. The season usually begins in late July and lasts through the end of September. The viticulturist and harvesters work around the clock to harvest the grapes at the right time, using our state of the art mechanical harvester.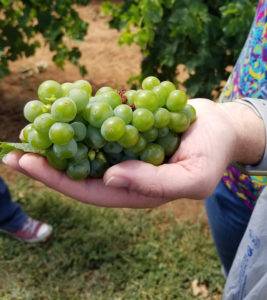 "This is an amazing tour. I recommend it for anybody who wants to learn more about wines, meet incredible people and just have an amazing time" – Tour Guest

"I loved & enjoyed the tour. If you ever get the opportunity to come, it's worth it. You'll really enjoy it" – Tour Guest

"I liked the familiarity of the people who were involved in hosting the tour and the wines tasted great. It was all very good"-Tour Guest
We look forward to sharing great wines, our history, and wine industry insights with you!
Lescombes Family Vineyards & Winery Tours are Perfect for :
Corporate Team Building
Mommy's Day Out
Bridal Parties
Ladies Day Out
Romantic Getaway
*Corporate, Private, and Group Tours Available by request
*Complimentary transportation is optional
Book your unforgettable experience or for a custom private tour, call us at 575-546-1179.