Let us prepare Thanksgiving Dinner so you can enjoy the holiday with your loved ones!
Las Cruces & Albuquerque   
Thanksgiving Buffet
Gather around our table and enjoy a traditional Thanksgiving Buffet that includes traditional turkey, ham, mashed potatoes, green bean casserole,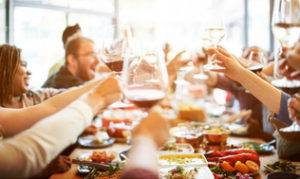 cranberry sauce, salad, enchiladas, desserts, and more!
10 am -4 pm
$29.95/Aduls
$11.95/Children 6-12 years old
Reservations strongly recommended. 
Farmington
Thanksgiving Plated Dinner
 Let us prepare for you a warm Thanksgiving three-course meal that includes:
Appetizer: Soup or Salad
Dinner: Turkey or Ham with all the fixings
Dessert: Cheeseecake or Pumkin Pie 
10 am -3 pm
$19.95 Adults
$10.95/Children 
Reservations strongly recommended.