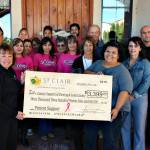 St. Clair Winery of Deming, NM, held their annual St. Clair Winefest in early October, with proceeds benefitting Deming & Luna County Cancer Support for the fifth year in a row. The local non-profit provides a variety of support to cancer patients in the community. They also provide outreach services for general education, early detection, screening programs and general cancer awareness.
"We provide transportation assistance to cancer patients within Deming and Luna County" explains Patient Advocate, Joanna Costilla. "We have vans that we offer to transport patients to and from out-of-town appointments at no charge. We also have a voucher program that can also help defray the cost of gas for qualifying patients who drive themselves."
They also have a fully-stocked cancer resource library and provide caps, wigs and prosthesis to many patients, free of charge. They also work as patient advocates, helping with billing negotiation for their clients.
The Winefest is themed with pink ribbons and decorations throughout their grounds and inside the wine-tasting room. A large portion of the fundraising stemmed from the Silent Auction, which is full of donated items from regional businesses, including St. Clair, all teaming up to support the cause.
"It's amazing to see the support from all the local businesses that donate to the silent auction," Costilla said. "We're extremely grateful to St. Clair for hosting this event and the generous donation they provide. We're also grateful to the community who continually supports the organization and our local cancer warriors."
This year's Winefest donation was $3,339, the largest thus far, which has been credited to both attendance and silent auction donations.
"I am proud to be a part of the St. Clair Winery Team." explains St. Clair Tasting Room Manager, Elly Read. "We are very supportive of this wonderful organization that does so much for the community. Being a cancer survivor myself, I know firsthand how supportive they are. I was overwhelmed with the attendance for this event and I hope it continues to grow year after year."
This year's silent auction sponsors included: Aaron's, Adobe Deli, Border Pest, Big-O-Tires, C. Brewka, Campos, Car Quest, Cato Fashions, Circle S Western, D. LeMarbe, Deming Arts Council, Deming Coca-Cola, Dentistry Divine Smile, Deming Orthodontics, Deming Writing Group, Deming Mineral & Rock Society, Desert Oasis, Donna Rae, Diaz Farms, El Rey Market, El Camino Real, Forghedaboutit Pizza, First NM Bank, Foxworth-Galbraith, Furniture Gallery, Heaven's, Hofacket Law Firm, Holiday Inn Express, Irma's, J. St. Cyr, K. Solis, Kmart, Karl's, L. Ballinas, La Cazuela, Mango Maddie's, Marie's Italian Restaurant, Mimbres Valley Feed, O'Reillys, Patio Café, Peppers Supermarket, Quality Inn, Rancher's Grill, Rio Mimbres Country Club, S. Nasewytewa, Sisbarro, Starmax, Sunrise Kitchen, Sun Valley Hardware, Tharp's Flowers, Tinley Tee Tire, & V. Parker.
Deming & Luna County Cancer Support can be reached at (575) 546-4780